Historical Sites, Genealogy, and Stories of Southern Indiana.
---
Our Mission
Research History of Early settlers, Old towns, Buildings, Churches, Doctors, Clergy, News Paper Clippings, Stories, Diaries, and sites that are no longer on the maps.  I encourage guest to leave a message, on their thoughts, interest, updates, corrections and would love to have additional information.
---
Under Construction
 We offer a Premium Membership for access to some Church Baptism, Marriage and Death records by clicking on Join Us and signing up for either the Silver or Gold membership.
Reception of DAR Appreciation Award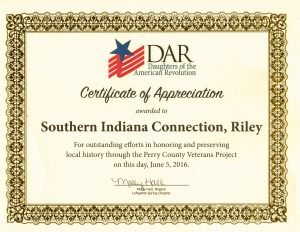 We keep building so be sure and keep coming back.
 Please feel free to browse around, leave blog, comments.  
Help us keep this Genealogy site going by purchasing a 'T' Shirt by clicking here.
Contact us through our Contact Us menu
Visit My Perry County Family Tree
Visit our Family Tree of Perry County links and Connections
.
You can become a member by clicking on Join US in Left Column.

Sure, I'll buy you a coffee and support this website! Donations
Thank You so much, Riley Lamkin